How to get Slash's guitar tone with your smartphone
Have you ever dreamed that you walked into a Guitar Center and bought every gear that Slash (Guns N' Roses, Velvet Revolver) uses?
It would cost you thousands of dollars, a small fortune.
We broke down his guitar rig into pieces, analyzed it and we have found a more affordable solution for you, that includes your smartphone.
Android users! Don't leave! Your phone is compatible too as well as the iPhone…
The Guitar
Let's start with his signature guitar. He is a well known Gibson Les Paul user. His guitar is loaded with his signature set of Seymour Duncan Pickups (APH-2s). Both are Alnico 2 Humbuckers with moderate output. His guitar tuning is mostly in Eb, half step down from standard E tuning.
The price of that guitar is off the limits for most of us. So we can substitute that Gibson with more affordable Epiphone Les Paul or any single cut LP shaped double humbucker electric guitar. It's of some importance that the guitar we pick must be slightly smaller than Fender Stratocaster. A Gibson's scale length is 24.75″ while others such as Ibanez, Fender, ESP are 25.5″. It affects the sound more than you would imagine.
The Amp

Through the years, Slash has used a few Marshall Amplifiers for his overdriven (dirty) guitar tone. Luckily all of them are derivatives of Marshall JCM 800. The other amps are Marshall Silver Jubilee and his signature Marshall AFD 100. They all have very similar pre-amp section and almost exactly the same tone stack and power-amp section. Either of these amps will get you there.
Yet, all of them were running into the same speaker cab which is a 4×12 Marshall 1960AV cabinet loaded with Celestion Vintage 30s.
Mic'ed up with Shure SM57 dynamic mic and Royer R121 ribbon mic on stage and in the studio.
(We will talk about the amp settings a little later.)
But, we don't live in sound-proofed studios. Even if we can afford the amp, most of us can't afford the loudness of a growling tube (valve) amplifier.
The Solution
For the past decade, we guitar players got familiar with digital modelings of tube amplifiers especially with floor processors and desktop versions.
Now that amp modeling is going mobile with Deplike – Guitar amps & effects (formerly known as Andrig), we can recreate Slash's guitar tone within our smartphones and tablets.
1. We start by downloading it for free if we haven't already. The best part is, it is cheap and accurate.
2. Launch Deplike
3. Add JCM800 from the amplifiers list that is based on the same Marshall amp and the cab and the mics that Slash uses
4. Set the knobs according to the "real" one.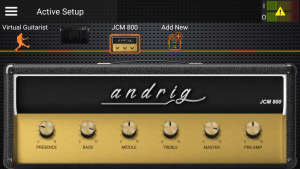 You're set for rhythm tones!
5. Tap on the EQ Pedal with the reverse smiling face setting to bump up the mids for the solos of November Rain, Welcome to the Jungle, Paradise City, etc…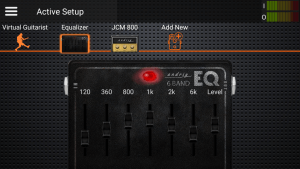 You're all set. Now connect* your electric guitar to your Android phone (Samsung, LG, Xiaomi, etc…) or Apple iPhone and enjoy the SLASH Tone 🎸
*It is possible to connect electric guitars to smartphones using connectors like iRig or for better quality USB audio cards like Behringer Guitar Link.